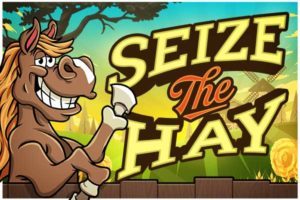 Seize the Hay - A Live Comedy Variety Show
Brand New in 2019! Seize The Hay will leave you happier than a goat in a briar patch! This belly-bustin' show dishes out a heapin' helpin' of side-splittin' belly laughs with Lynyrd's hilarious interruptions and antics, newfangled numbers from acclaimed ventriloquist Ken Groves, the Jonas Brother's hilarious take on Beatles music, Lynyrd's misguided trumpet performance, Mad Libs Theater, and incredible performances by the acclaimed acapella group "Udder Harmony". Then add a dollop of knee-slappin' audience interactive improv, a surprise musical appearance, and you won't want to miss Seize The Hay!
For event and ticket info: https://tickets.vendini.com/ti...
Event Location
Amish Country Theater, 4365 State Route 39, Berlin, OH
Date
Tuesday, May 14, 2019at 7:00pm - 9:00pm
Duration
2h
Repeats?
Repeats Weekly on Tuesday, starting from May 14, 2019, until Oct 22, 2019
Upcoming Recurrences

Tuesday, August 20, 2019at 7:00pm 9:00pm
Tuesday, August 27, 2019at 7:00pm 9:00pm
Tuesday, September 3, 2019at 7:00pm 9:00pm
Tuesday, September 10, 2019at 7:00pm 9:00pm
Tuesday, September 17, 2019at 7:00pm 9:00pm
Tuesday, September 24, 2019at 7:00pm 9:00pm
Tuesday, October 1, 2019at 7:00pm 9:00pm
Tuesday, October 8, 2019at 7:00pm 9:00pm
Tuesday, October 15, 2019at 7:00pm 9:00pm
Tuesday, October 22, 2019at 7:00pm 9:00pm